The M-Files ECM / DMS system is once again gaining the highest position in the content management market according to the Nucleus Research Content Management Technology Value Matrix Report for 2020. This is the seventh year that M-Files has held the position of market leader. This year, M-Files earned the highest recognition for both usability and functionality.
M-Files Earns Highest Leadership Position in Nucleus Research 2020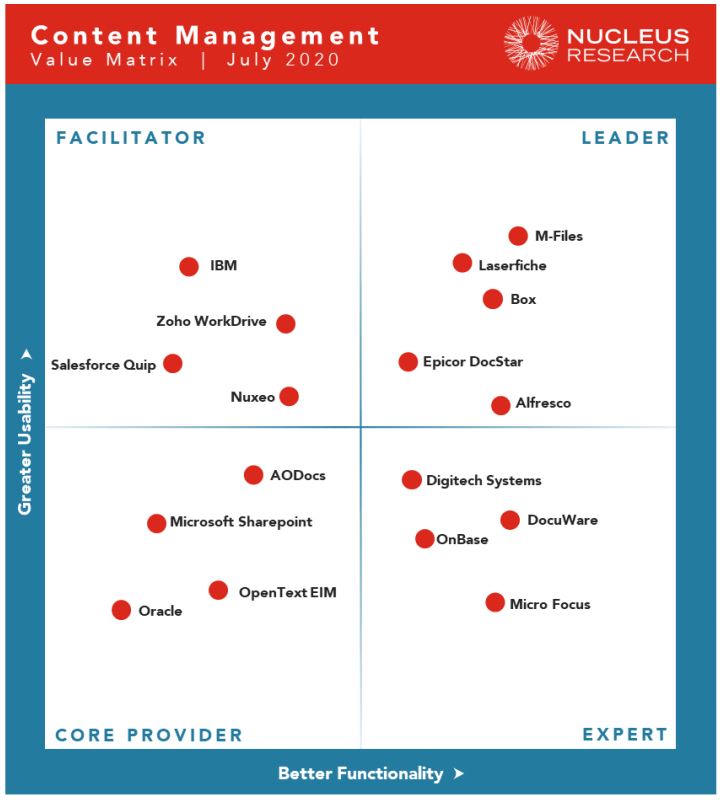 Nucleus Research evaluates content management providers on two core criteria – usability and functionality, as determined by analysis of interviews with end users and ongoing research by the firm. The 2020 report included reviews of 17 vendors and placed them in quadrants based on how Nucleus Research assessed them as Leaders, Experts, Facilitators and Core Providers.
"This year, the M-Files Leader designation was driven by new innovations that reaffirm the platform's unique attributes and distinction in the marketplace," said Barbara Peck, principal analyst, Nucleus Research. "With its metadata-based, system-neutral and AI-powered visionary platform, M-Files continues to set the standard for content management."
M-Files was recognized for unveiling Smart Metadata, a tool that automatically learns to extract information from documents for better search and indexing; M-Files Discovery, a new offering that identifies business-critical documents either in M-Files or any connected external repository based on PII data extraction and document classification; and M-Files Ground Link, a solution that allows a secure and highly reliable connection from M-Files Cloud to customers' on-premises data repositories.
FULL REPORT OF NUCLEUS RESEARCH TO BE DOWNLOADED FOR FREE HERE