The Digital Resources team have brouht 5 awards from the international M-Files conference in Lisbon, Portugal.
In addition to two individual VIP awards for David Páter and Jan Sedláček, we are honored for having the  Best Marketing Program, the M-Files Largest New Deal Award, and finally the main prize, Digital Resources has become:
EMEA PARTNER OF THE YEAR 2017!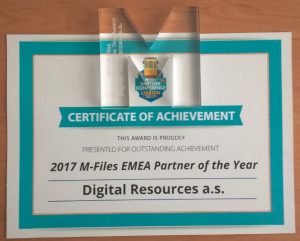 Many thanks for an excellent cooperation to our customers, the whole team and our partners. The gala evening was in the Bond spirit and took place at the Casino Estoril , which inspired Jan Flemming to write the Casino Royale bond movie.