On Wednesday, November 20, we organized an ICT breakfast in the beautiful town of Písek, where we have our second branch. The topic of the event was information chaos in companies and its elimination using ECM / DMS system M-Files.
ICT Breakfast: How to eliminate information chaos?, Písek, 20 November 2019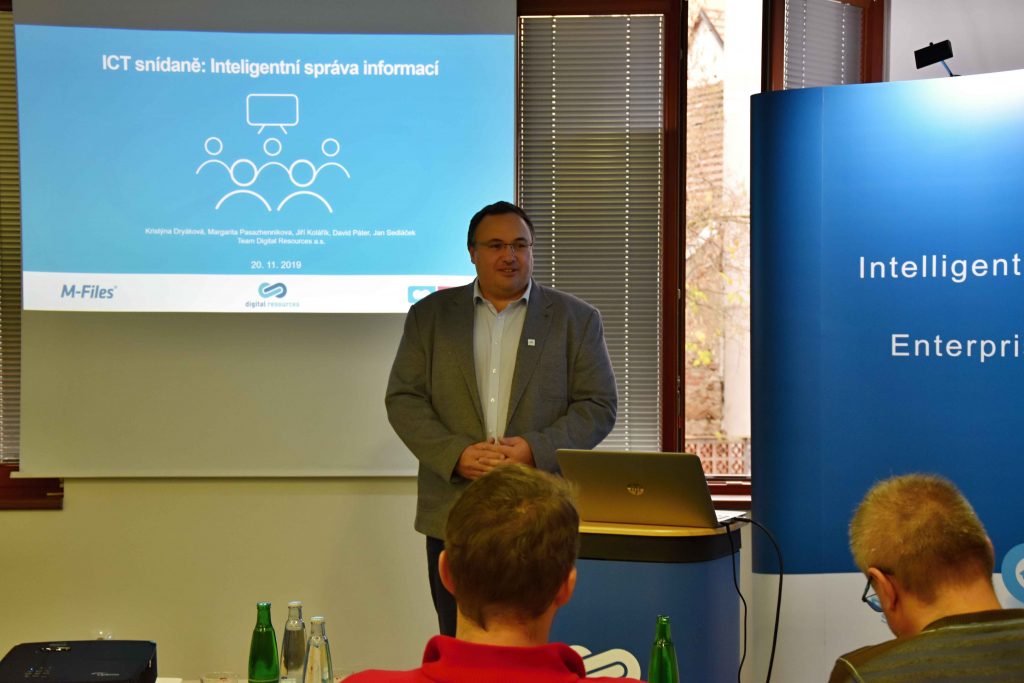 The event took place in the hotel Biograf in Písek, where a rich buffet breakfast was prepared for our guests.
Jan Sedláček, Chairman of the Board of Digital Resources, introduced the guests to the world of DMS (document management) and ECM (enterprise content management). He explained why M-Files are named Nucleus Market Leader.
Jiří Kolářík, IT specialist at Digital Resources, introduced participants to information chaos and showed how it can be eliminated in companies by M-Files solution.
David Páter, Director of the M-Files Division and Písek Branch, gave a live demonstration of the modern M-Files system, including its administrative environment.
Kristýna Dryáková, Marketing Manager, focused on the Intelligent Metadata Layer (IML) module, which makes it easier for users to work by analyzing documents and images, pre-filling metadata, and also helping to work with information and documents across all repositories in the company.
Margarita Pasazhennikova, ICT Consultant at Digital Resources a.s., presented the guests with intelligent data mining, for example from received invoices, using the Ancora system.
At the end of the event, there was a draw of participants for valuable prizes together with a time for questions and subsequent networking.
We would like to thank all our guests and our team!