Today was our last ICT breakfast in the first half of 2019 called Intelligent Information Management. We focused on topics such as content management with modern ECM solutions, elimination of information chaos, contract lifecycle management, intelligent data mining, and more.
ICT Breakfast: Intelligent Information Management, 12 June 2019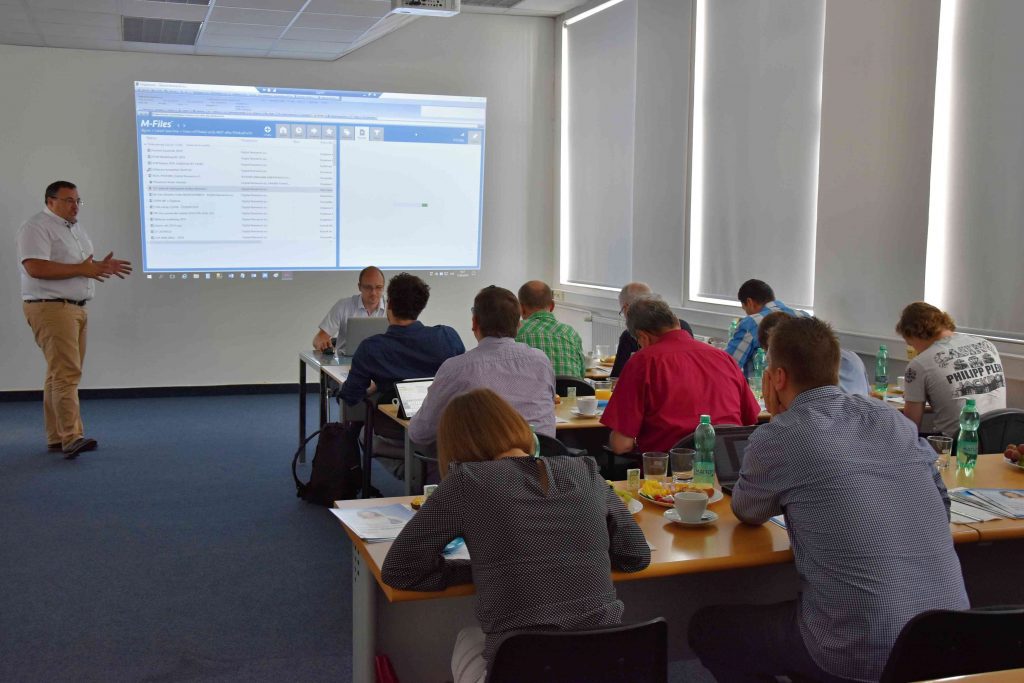 On June 12, another of our ICT Breakfast series took place in our conference room, this time on Intelligent Information Management.
Jan Sedláček, Chairman of the Board, opened the whole event and devoted himself to the topic of modern ECM solutions and problems with traditional folder structures in companies. He introduced M-Files as Leader named by Nucleus Company (The report can be downloaded for free HERE.)
Kristýna Dryáková, Marketing Manager, focused on the problem of information chaos in companies and its elimination on the example of contract lifecycle management. In the second part of the event, she introduced the M-Files mobile application.
David Páter, M-Files Division Manager, continued with a live presentation of M-Files, including a demonstration of the workflow again on the example of the contract lifecycle. He also introduced the M-Files administration environment.
Václava Hromádková, Senior Consultant, focused on the revolutionary idea of Intelligent Metadata Layer (IML) and demonstrated how M-Files can handle any content without lying in the M-Files system. She also made an example of intelligent image analyzer.
Margarita Pasazhennikova, ICT Consultant, introduced Ancora, an intelligent data mining system. She also demonstrated the process on a live demonstration of corporate invoicing.
At the end of the event, a prize draw was held for participants – 3 winners could take home a bottle of Moravian wine and a package of homemade honey from our colleague.
Many thanks to all of you for coming and we are looking forward to meeting you in the second half of the year!
We will soon provide you with a schedule of events for the second half…
More about M-Files system HERE.