Our company Digital Resources is certified to ISO 27001 – an international standard that defines the requirements for information security management system in the company.
We provide our customers with a high standard and guarantees that all information is processed with maximum security and is accessible only to authorized persons. We use ECM/DMS M-Files solution to ensure full compliance with the directive.
ISO 27001 certification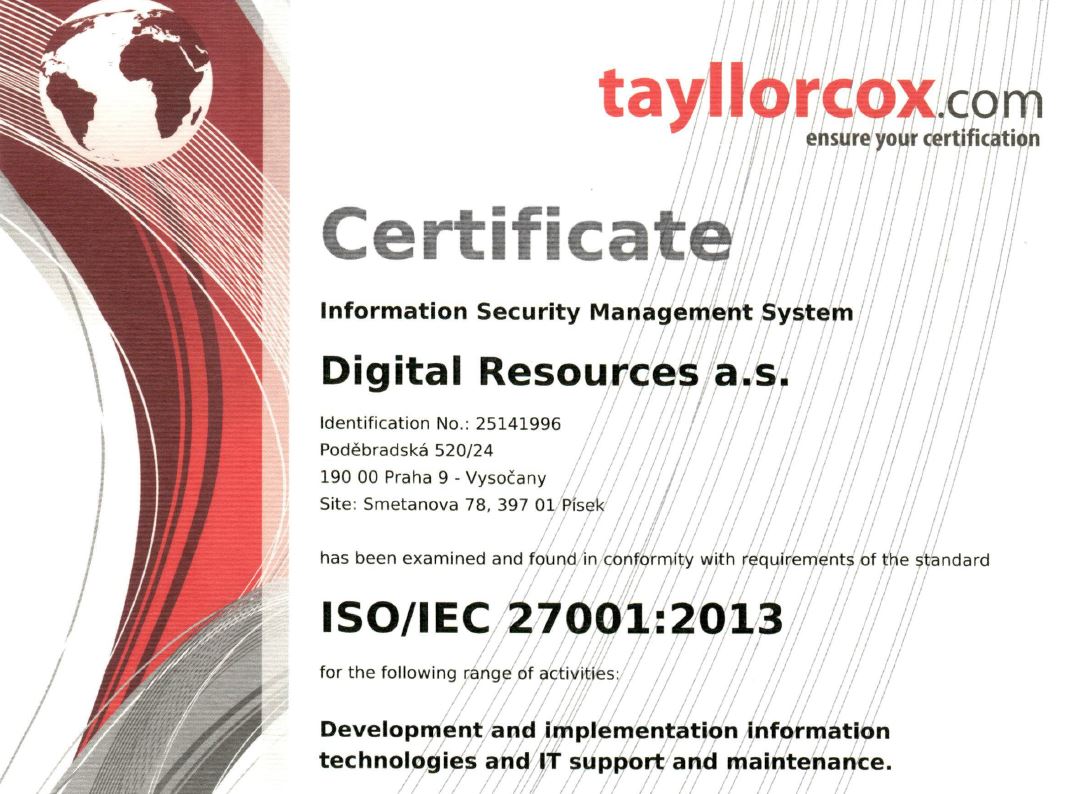 The management of the company has decided to implement, operate, monitor, review, maintain and continuously improve the information security management system according to the requirements of ČSN EN ISO/IEC 27001 and to meet all applicable requirements related to information security.
The basis for meeting the requirements of ISO 27001 are the established rules of the Information Security Management System (ISMS) and the definition of protected information. Special regulations are set for the IT department and its staff, hardware and software.
Digital Resources Information Security Policy is publicly available HERE.
All documents and information related to ISO 27001 certification are processed using the ECM / DMS system M-Files, which offers a fully automated workflow. Every employee has a duty to familiarize themselves with the new directive and related content – this is ensured by the automatic tasks generated by M-Files for individual employees. M-Files thus also monitor compliance through activity logs and dynamic views. Access to the system is based on user rights, of various levels.
In the event that an employee discovers non-compliance with the ISO 27001 directive, he immediately defines a security incident in M-Files, which is further processed and corrective and preventive measures are set out.
If you would like to learn more about how it is possible to implement a system for compliance with the guidelines and all requirements in your company, register for our webinar:
We will show you how it is easy and efficient to manage and control the fulfillment of internal requirements for acquaintance with specific documents and to make records, for example for future audits. With automated workflows, compliance with all directives is easy. We will introduce you to the M-Files solution, which will significantly help you reduce the risk of human error and omissions and ensure compliance with directives and regulations. We will include a live demonstration of the process of circulation of company documents on the example of compliance with the ISO 27001 directive, which defines the requirements for the information security management system in the company.
You can also register at our international conference ISI 2022: Intelligent Information Management, where the agenda of directives, compliance and ISO will be one of the topics. The entire conference program can be found HERE.
More at www.isi2022.com.