Do you have to face information chaos in your company? Don't you have documents and information at hand when you need them?
30 % of the workday is spent on searching for information.
Would you like to digitize and automate your business processes, but you are not sure where to start?
92 % of companies believe that their information management strategy needs to be modernized.
Data experts are in broad agreement that the volume of data double every two years.
We invite you to our unique international conference
ISI 2022: Intelligent Information Management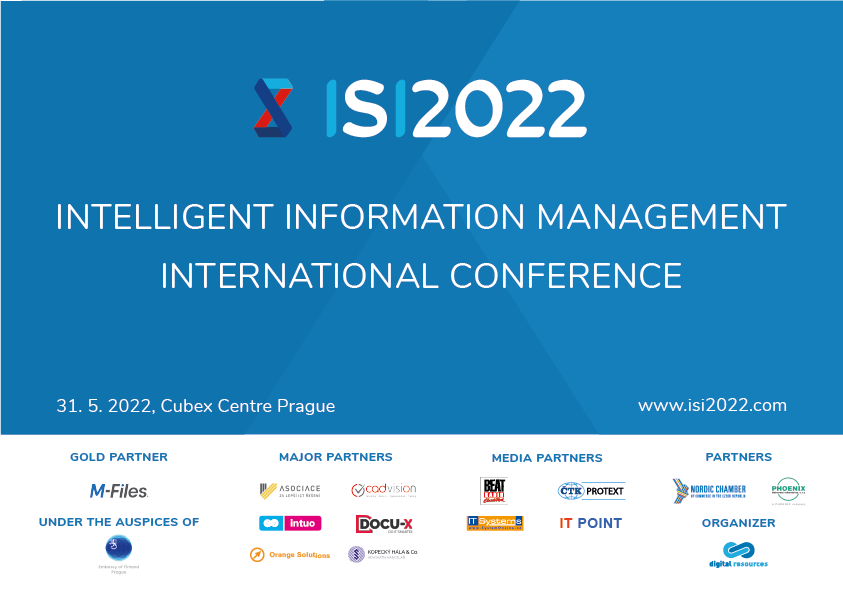 ISI 2022 conference – Intelligent Information Management will focus on the latest trends in information management, digitization and data extraction, streamlining business processes and tools in general that can significantly enrich your work life.
Today, competitiveness is defined not only by high-quality services and products at a good price, but also by perfect, unambiguous, efficient and fast communication based on the right information. You will have the opportunity to see live demonstrations and practical applications in various areas. At the same time, professionals from the customer's side who have improved their environment in this area will share their "best practices" with you.
Date: 31 May 2022, 10:00 – 17:00
Venue: Cubex Centre Prague, Na Strži 2097/63, Prague 4
Standard price: 6 900 CZK / person *
Early Birds price for purchase until 31 March 2022: 3 800 CZK / person *
* Prices do not include VAT.
The conference is intended for managers, directors and owners of medium-sized and enterprise companies who want to improve and automate processes and deploy appropriate tools for easier collaboration and greater efficiency.
More at www.isi2022.com.