Our unique ISI 2022 conference will take place in just 14 days – what can you look forward to?
We are pleased to announce that Sebastiaan Crebolder, Senior Manager from the Finnish company M-Files, will speak at Keynote speech! In his lecture, he will focus on a key topic of a paperless office.
The full list of speakers can be found HERE.
The ISI 2022 – Intelligent Information Management conference will focus on the latest trends in information management, digitization and data extraction from documents, streamlining business processes and tools in general that can significantly enrich your work life.
You can find the whole program HERE.
You can look forward to international speakers, networking, refreshments, including lunch and a raffle for interesting prizes!
ISI 2022 International Conference: Intelligent Information Management, 31 May 2022, Cubex Centre Prague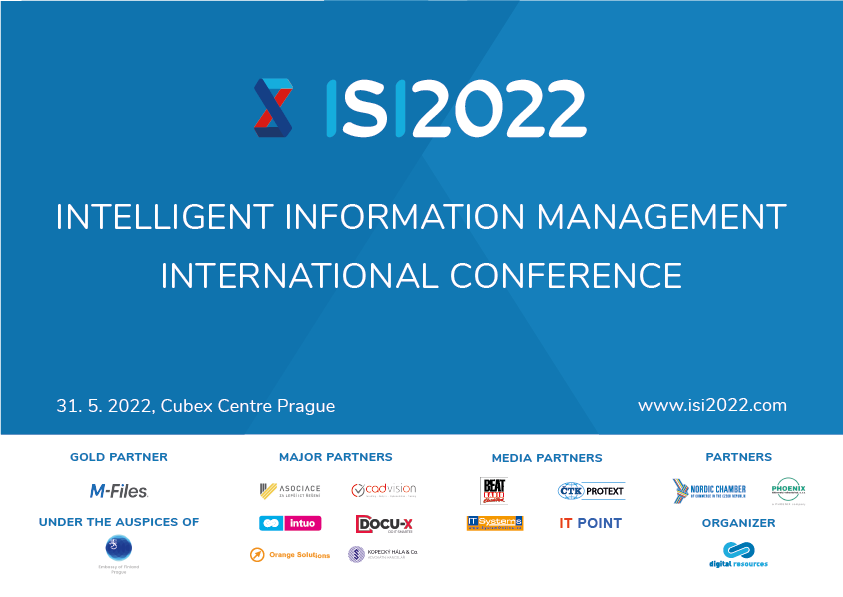 The conference is being prepared in cooperation with the Embassy of Finland – the conference will be opened by His Excellence Jukka Pesola. The main partners of the conference are M-Files, Intuo – Company Intelligence, Asociace za lepší ICT řešení, o.p.s., SOCOS IT s.r.o., cadvision s. r. o., Orange Solutions s.r.o. and Kopecký Hála & Co., advokátní kancelář s.r.o. Media partners are ČTK Protext, SystemOnline.cz, Radio Beat and IT Point.
The conference is intended for managers, directors and owners of medium-sized and large companies who are considering improving and automating processes and deploying appropriate tools for easier collaboration and greater efficiency.
Date: 31. 5. 2022, 10:00 – 17:00
Venue: Cubex Centre Prague, Na Strži 2097/63, Praha 4